HDCookbook.jovial.com (originally HDCookbook.com)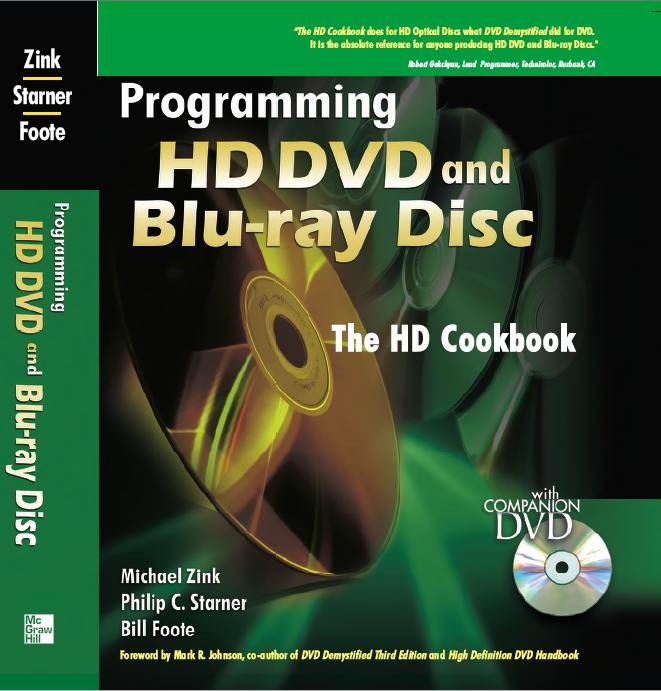 This website is a home for information related to the book "Programming HD-DVD and Blu-ray Disc: The HD Cookbook," which is available from McGraw-Hill Professional, from Textbookx.com and from other booksellers. Bulk pricing information is here. Errata for the HD cookbook are available here.
Resources for Blu-ray Disc Java and other GEM platforms

| | | |
| --- | --- | --- |
| • | | BD-J HD cookbook open-source project, including frameworks and tools for BD-J and other GEM platforms, and tools that you can use to create a Blu-ray Disc (provided that you already have video in the right format). |

HD Handbook

The HD Cookbook is related to the HD Handbook. The HD Handbook provides information about authoring, design and production of both Blu-ray Disc and HD-DVD. The HD Cookbook will provide more in-depth information about authoring, and programming the interactive layer of each format: HD-DVD Advanced Content, and Blu-ray Disc Java. See the McGraw Hill website, or you can buy it here and here.
HD-DVD
Since the book was written, HD-DVD has lost the "format war," but there's still a lot to be learned from the excellent work that went into "the other format." Resources for HD-DVD are presented here.
---